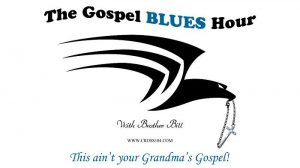 The Gospel Blues Hour
Sundays @ 6:00pm & Tuesdays @ 1:00pm

The Gospel Blues Hour is an internationally syndicated weekly program hosted by Brother Bill Kenton of the BillandKatRadio Network based in Cincinnati, OH USA. This ministry brings us all together in praise to the Lord! If you are tired of the sleepy, traditional CCM music, come and worship with us! The Gospel Blues Hour is guaranteed to inspire you and get you movin'!
"If you've come here looking for any of that come lay your head on the shoulder of perfect hair Jesus music, you're in the wrong place!! If you want wailing Strats, screaming Les Pauls, and some down-home acoustics, we can help you with that!!"