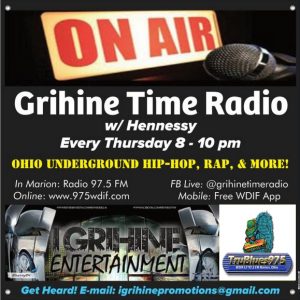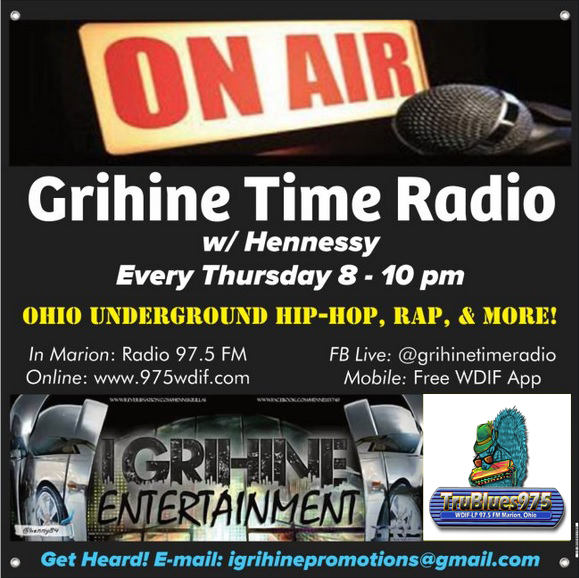 GRIHINE TIME RADIO W/ HENNESSY
OHIO'S LOCAL MUSIC SPOTLIGHT
8:00PM Thursdays (2 hrs)
It's about time Marion and regional musicians had a voice on local radio, and our man Hennessy is making that happen! We're playing the best local music, giving local artists a proper salute, and getting that local flavor out over the air for the masses!
Radio in the 21st century? Damn straight. Sure you can catch a lot of this stuff online, but here's the difference. You have to know what you're looking for if you're trollin' the interwebs for this stuff. Here on TruBlues975 and Grihine Time Radio, we blast some of the best music that you might not even know is out there! This is your chance to find your new favorite track from someone who might live down the street from you!
Miss a show? Stop by our Facebook Page and watch this week's live feed!
HEY, MUSIC MAKERS! We want to play your music!Send us a radio-edited mp3 to grihinetimeradio@gmail.com and we'll get you played!
Make sure to bleep/reverse all really bad swear words! (No words that start with or contain words that start with the letters "S, F, or P" or graphic depictions of sex or violence, even if there aren't any swear words.) Use "The Simpsons" test. If they can say it on The Simpsons, you can say it on the radio. Please contact us if you have any questions. All genres of music accepted.