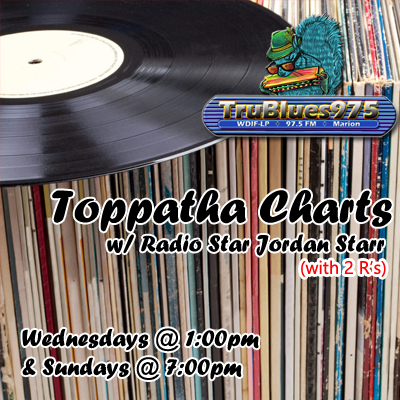 (Now this might not be a big deal to most folks, but since we're all radio-philes here, it's pretty darn cool to us!)
Toppatha Charts, hosted by Radio Star Jordan Starr w/ 2 Rs, is now being played on two other online blues networks! If you miss the show on our station, you can catch replays on the WHIP Blues Network and Kat & Bill's Roots 102! We're also in talks with a couple other radio stations in Ohio who might be picking up the show, as well!
We take a good deal of pride in this show. We create it in Marion and make sure it sounds as professional as possible with quality post-production and care in the presentation. Plus Jordan's enthusiasm really puts it over the top in our opinion. It's worth picking up if you've got a network of your own! Doesn't cost anything, and you can get it sponsored. We're just happy to be putting something out there to the world that originates from Marion. Shoot us an e-mail if you'd like more info.
Proud to have another Marion first! 😀