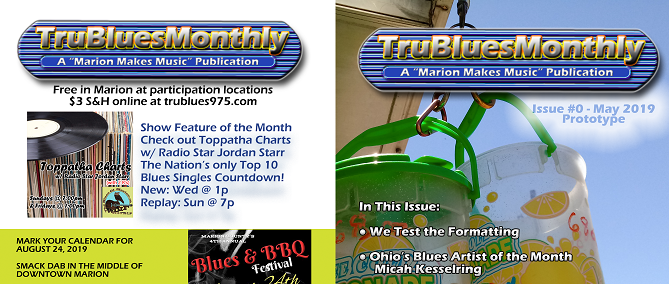 Introducing the most unique magazine to hit Marion, Ohio in decades! We're putting out our own monthly magazine starting this summer!
We'll have all sorts of great content inside such as:
Ohio Blues Artist/Band of the Month
Ohio Blues Album Review
Info on station events and promotions
Local Live Music Calendar for all genres
Grihine Time's underground feature
"Marion's Maestros" – a section dedicated to highlighting exceptional children in Marion who are in our schools' music programs
Exclusive coupons and deals from our sponsors
And other fun, unpredictable stuff!
You can snag a copy FOR FREE in Marion at one of our participating sponsors (list of locations to be announced), or you can buy it online here and we'll mail you a copy for $3.00.
OR you'll receive a yearly subscription if you join our Marion County Blues Society (coming very soon)!!