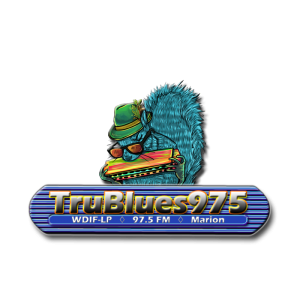 We're updating our image, and we need your help to name our mascot!
We've found it a little tough meeting new potential clients and introducing ourselves as "Hi, I'm with W-D-I-F-L-P 97.5 F-M the blues radio station…" By the time we're done introducing ourselves, they've already left! 😛
So in the interest of pith and professionalism, we are currently updating the website, all of our promos, shows, etc. behind the scenes to present a new professional look and sound.
WDIF-LP is becoming TruBlues975!
Remember Mr. Squirrel there in our new snazzy logo? He/She needs a name, and we need your help to find the perfect name!
Between now and November 1st, we're holding a contest. For every $5.00 you donate to us, you can submit a name for consideration! (link with instructions at the bottom)
Now when I see contests like this, my first thought is, "Ah, they'll never pick MY idea because it's too crazy." Well if any of you know the station manager here (Spencer), you know he's just crazy enough to pick a random nonsensical name, so EVERY name has a shot so long as it doesn't contain anything sexual or swears!
Click on the donate button below, and submit your suggestion for our new mascot name! Your donation will go to Marion Makes Music, our licensing company which is a 501c3 public charity dedicated to keeping the blues alive on our station and providing free music lessons to children in Marion.
We'll announce the winner on November 1st!
Remember to submit your name idea on the page where you click the final donate button.