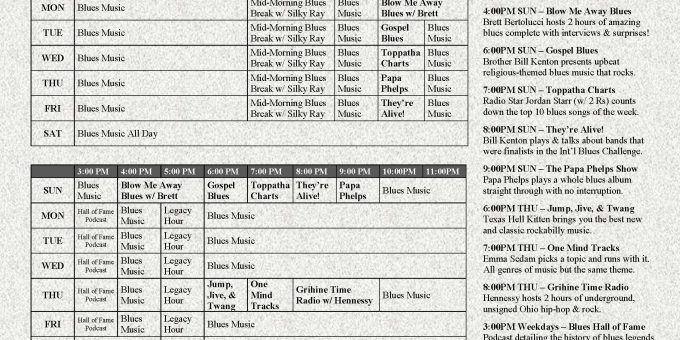 For a fresher look at the top 10 blues singles in the country according to Roots Music Reports, we're moving Toppatha Charts to a spot earlier in the week – Wednesdays @ 1:00pm! Catch the replay still on Sundays @ 7:00pm during our Super Sunday Blues Line-Up!
Blow Me Away Blues w/ Brett Bertolucci moves to 4:00pm on Sundays and replays on Mondays @ 1:00pm
A new show! Check out "They're Alive" hosted by Bill Kenton. This show features music from bands that have competed in the International Blues Challenge held by The Blues Foundation every year. It airs @ 8:00pm on Sundays and replays Fridays @ 1:00pm.
Check out the updated schedule here with our old-timey TV Guide style schedule!